Description
Glow worms 60mm set of 4 complete with bearings
Glow worms 60mm suits skateboards, wheels with ABEC 9 bearing and spacers included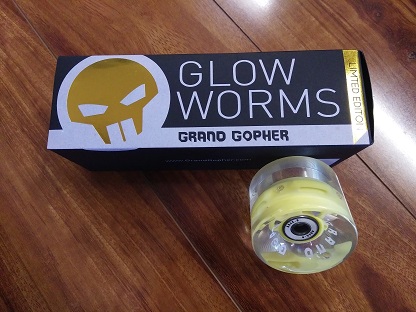 ampro skates Malaga Western Australia
Thank you for browsing our website, what you are viewing is the 

first and only

 complete skate and scooter store established in Western Australia November 2015, a non franchised family business with owners of 40 years skating knowledge and of a fully qualified mechanical technician background, catering from amateur to pro skaters.
As being involved with retail for over 46 years we know what the consumer is looking for affordable quality products, even though we have access to many brands, every single product and part is carefully examined to be up to the standards we require before ampro skates accept and promotes those products. This is why we don't carry mass merchant disposable toys found in supermarkets or variety stores. As being retail for so many years we at ampro skates knows how disappointing it is to purchase something than to return later to see that same item on sale, this is why no sales ever at ampro skates, just everyday lowest possible prices,24/7 365 days per year.
Our dream was to combine our 40+ years of skating and technical mechanical experience and create a one-stop shop which caters to both the amateur & professional skater,with our main focus on quality affordable family products, which is a lot more difficult task than one could imagine,trying to find quality products that is affordable yet not a throwaway disposable consumable.
Carrying large stocks of kick scooters suitable from toddler age, right through to the pro rider.  Brands of complete scooters and parts we stock are Envy, Flavor, Madd Gear, Crisp, Grit, Ethic, Samurai, Protec, Globber, Fox, Sacrifice, Syndicate, Venice & District. also stock a comprehensive stock of spare and replacement parts, headsets, hand grips, bearings, wheels, bars, decks, helmets & bolts.
Being involved in the WA Roller Derby community, and pro scooter riders, ampro skates stock the appropriate quad skates and protective gear.  We carry Bont, 187, Triple 8 & offer a wide variety in stoppers, plates, spare parts, wheels, bearings, protective gear and apparel with lots of skates and inline blades suitable for children, including those which can grow with your child's feet. massive range of coloured laces, socks and novelties.
Just recently improved the range of skateboard stocks, including novelty light up penny boa

rds, longboards & double kick.  Brands include Gopher, Trinity, Madd Gear, Eternal & NaNa.  We also offer spare parts, blank boards, trucks.
Take advantage of buying protection at store cost with our  protection pack, with any set of skates, blades, scooter or skateboard, over $100 value we offer a safety pack valued up to $85, your choice of protection gear (helmets, knee pads, elbow pads and wrist guards) all for $49.00!
With extensive technical expertise, we can undertake both major and minor repairs from bearing, headset and bolt replacement, precision grip tape application, cleaning, respraying, cut downs, redrills.
Staff, pride ourselves on our ability for custom builds.  If you have a dream, we can build it for you.  Come chat to our techs today and get your dream under your feet today.
To quote a well-known verse (I've paid my dues time after time, I've done my sentence but committed no crime and bad mistakes I've made a few, I've had my share of sand kicked in my face, but I came through), (Queen 1977)
What we are saying is there is no better experience than long term knowledge.
 
http://amproskatesfacebook.com.au
https://www.truelocal.com.au/search/skates/malaga