Description
Sacrifice reo Titanium bars OVERSIZED
Sacrifice reo Titanium bars is made from an extremely lightweight metal called titanium, Titanium is as light as aluminium but as strong as chromo. As always Sacrifice have selected the best material available using a grade 9 Titanium. The Sacrifice Reo TI bar will weigh a crazy 680 grams, this will make the Reo Ti bar the lightest bar currently on the market. Professionally designed for the rider who demands the best the industry has to offer. The Sacrifice Reo TI bar comes with no slit, these guys are perfect for SCS compression. Oversized bars without a slit are compatible with only full size SCS as is. For HIC a slit must be installed. For IHC and mini hic a conversion kit must be purchased and a slit must be installed. Not compatible with threaded or ICS compressions. 

*PLEASE NOTE: Cutting titanium is not an easy task. Because it is a reactive metal, it changes its chemical properties when exposed to heat. Therefore, titanium is "cut cold". This means keeping the metal cool during the cutting process, using different techniques. It requires both experience and state of the art equipment to be done properly.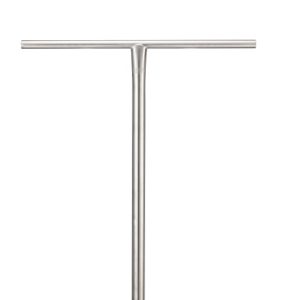 Sacrifice highly recommend that you do not try cutting the bars yourself at home unless you are experienced at metal fabrication. Cutting these bars completely voids all warranty and will change the properties of the titanium affecting both strength, weight and longevity.
The Sacrifice Reo TI Titanium Bars come with a limited 30 day manufacturer's warranty covering only clear and proven manufacturing errors or defects.
These bars go through a rigorous quality control process and are professionally hand TIG welded to the highest quality.
Height 681mm 27 inches
Width 610 mm 24 inches

ampro skates Malaga Western Australia
Thank you for browsing our website, what you are viewing is the 

first and only

 complete skate and scooter store established in Western Australia November 2015, a non franchised family business with owners of 40 years skating knowledge and of a fully qualified mechanical technician back ground, catering from amature to pro skaters.
As being involved with retail for over 40 years we know what the consumer is looking for affordable quality products, even though we have access to many brands, ever single product and part is carefully examined to be up to the standards we require before ampro skates accepts and promotes those products. This is why we don't carry mass merchant disposable toys found in supermarkets or variety stores.
Our dream was to combine our 40+ years of skating and technical mechanical experience and create a one-stop shop which caters to both the amateur & professional skater,with our main focus on quality affordable family products.
Carrying large  stocks of kick scooters suitable from toddler age, right through to the pro rider.  Brands of complete scooters and parts we stock are Envy, Flavor, Madd Gear, Crisp, Grit, Ethic, Samurai, Protec, Globber, Fox, Sacrifice, Sydicate,Venice & District. also stock a comprehensive stock of spare and replacement parts, headsets, hand grips, bearings, wheels, bars, decks, helmets & bolts.
Being involved in the WA Roller Derby community, and pro scooter riders, ampro skates stock the appropriate quad skates and protective gear.  We carry Bont, 187, Triple 8 & offer a wide variety in stoppers, plates, spare parts, wheels, bearings, protective gear and apparel with lots of skates and inline blades suitable for children, including those which can grow with your child's feet. massive range of coloured laces, socks and novelties.
Just recently improved the range of skateboard stocks, including novelty light up penny boards, longboards & double kick.  Brands include Gopher, Trinity, Madd Gear, Eternal & NaNa.  We also offer spare parts, blank boards, trucks.
Take advantage of our kids protection pack, with any set of skates, blades, scooter or skateboard, over $100 value we offer a safety pack valued up to $85, you choice of protection gear (helmets, knee pads, elbow pads and wrist guards) all for $49.00!
With extensive technical expertise, we can undertake both major and minor repairs from bearing, headset and bolt replacement, precision grip tape application, cleaning, respraying, cut downs, redrills.
Staff , pride ourselves on our ability for custom builds.  If you've a dream, we can build it for you.  Come chat to our techs today  and get your dream under your feet today.
ampro skates Malaga Western Australia
ampro skates Malaga Western Australia