Our Location!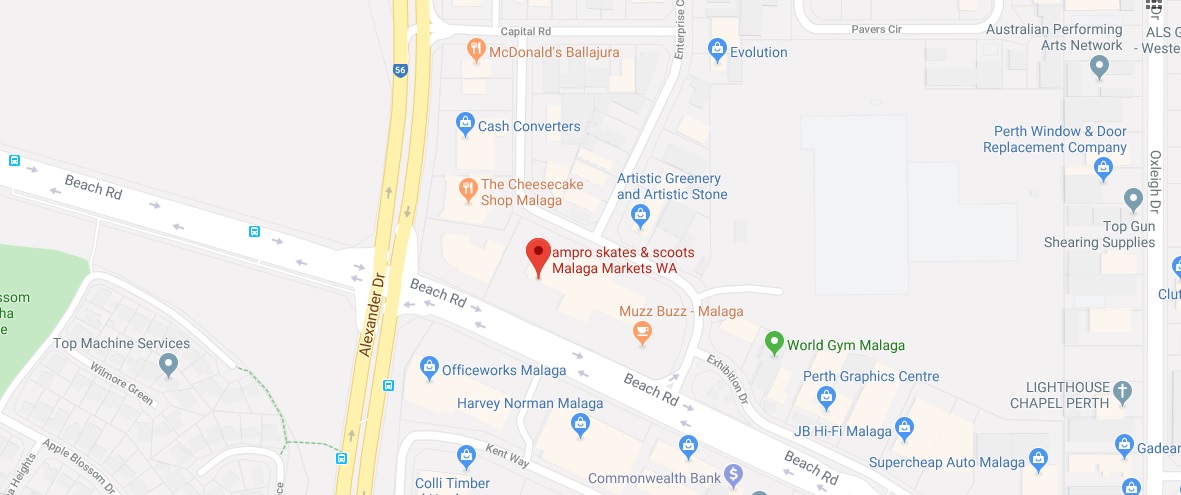 Shop 40-42, 7 Bonner drive Malaga markets Malaga WA 6090
Southside West end of Malaga Markets directly opposite BCF fishing.
T: 0450 330 640 after-hours calls welcome till 9 pm W.A time zone.
E: sales@amproskates.com.au
Shipping of orders is normally around 8 days from date of purchase except where items are back-ordered or out of stock from suppliers. 
Returns Policy
Yes, returns are accepted due to an exchange of size, however, you must contact within 7 days of receiving goods!
Must  be returned in same packaging and unused, all returns are at consumer's expense this includes all freight or shipping costs.
Warranties vary for different products and are covered by our suppliers to make a claim please contact us immediately for further instructions.
Returns due to change of mind or for any non-warranty claim are not accepted this is in compliance with the ACCC consumer fair trading rules!
Refunds thru Paypal, afterpay, zippay, if approved by ampro skates will be less the service fee cost.
https://www.commerce.wa.gov.au/consumer-protection
Ampro Skates is prepared to provide replacements or full refunds for products that are damaged or faulty at the time of sale, damage caused by a customer is not a warranty,  If you are unsure, please call or email sales@amproskates.com.au
Layby
All laybys require a 30% minimum non-refundable deposit.
All special orders must be paid for by end of layby period specified.
Any special order laybys cancelled or not paid for by the end of layby period will be sold at remaining balance to recoup costs and all sums of money paid will be retained by ampro skates.
PRIVACY
This Privacy Policy sets out our commitment to protecting the privacy of your personal information that we collect through this website www.amproskates.com.au (Site) or directly from you.
Please read this Privacy Policy carefully.  Please contact us if you have any questions.
You providing us with personal information indicates that you have had sufficient opportunity to access this Privacy Policy and that you have read and accepted it.
If you do not wish to provide personal information to us, then you do not have to do so, however, it may affect your use of this Site or any products and services offered on it.
1.     Type of personal information collected
Personal Information: The type of personal information we collect may include is set out on our website.
If we receive your personal information from third parties, we will protect it as set out in this Privacy Policy.
2.     Collection and use of personal information
We collect and use the personal information for purposes including to contact and communicate with you, for internal records only.
3.     Disclosure of personal information
We may disclose personal information for purposes including to provide our products and services to you, and as required by law.
Where we disclose your personal information to third parties for these purposes, we will request that the third party follow this Privacy Policy regarding handling of your personal information.
4.     Access to and correction of personal information
Access: You may request details of personal information that we hold about you, in certain circumstances set out in the Privacy Act 1988 (Cth).  An administrative fee may be payable for the provision of information.  We may refuse to provide you with information that we hold about you, in certain circumstances set out in the Privacy Act.
Correction: If you believe that any information we hold on you is inaccurate, out of date, incomplete, irrelevant or misleading, please contact us by email. We rely in part upon customers advising us when their personal information changes.  We will respond to any request within a reasonable time.  We will endeavour to promptly correct any information found to be inaccurate, incomplete or out of date.
5.     Complaints about breach
If you believe that we have breached the Australian Privacy Principles and wish to make a complaint about that breach, please contact us at sales@amproskates.com.au
6.     Unsubscribe
To unsubscribe from our e-mail database, or opt-out of communications, please contact us at sales@amproskates.com.au
7.     Storage and Security
We are committed to ensuring that the information you provide is secure.
For any questions or notice, please contact us at:
ampro skates ABN: 80 712 024 253
Email: sales@amproskates.com.au