Description
­Envy one kit scooter
Envy one kit scooter 2018/2019 entry level skatepark scooter is the most versatile scooter made today, fully adaptable with any other higher quality envy products will also handle wheels 100mm 110mm or even 120mm diameter.
Envy one scooter kit pack,  The newly designed ONE was made for the beginner rider looking for a low cost but durable scooter that can compete with the best on the market.
Envy One is the first of its design and comes fully customizable with the ability to add on any of Envy Scooters higher end parts.
A series  6061 aircraft grade alloy deck system with a stem angle if 82.5 deg and with width of 113mm/4.45″ and a length of 495mm/19.5″ complete with bolt on flex brake.
Black Two piece 550mm high x 520 wide high tensile steel bars
160 mm TPR Handgrips, Nylon Bar Ends
2 Bolt Clamp- 5mm Bolt
4130 Thermal treated two piece "COLT" fork with 100mm wheels with ability  to up scale  to 110 or even 120mm size wheels plus also fit box ends to rear of deck if so desired a fully integrated sealed bearing headset with  IHC 31.8 standard compression system and bolt on flex brake is also standard supplied equipment .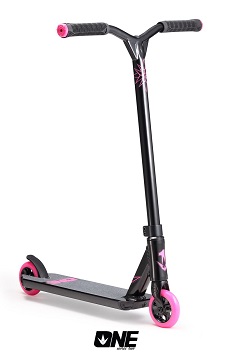 https://www.facebook.com/ampro-skates-1073323162702061
https://www.youtube.com/playlist?list=PLG8JY_wIIJRQJDncWMLxAuflMt4BV2Qvd
Envy one kit scooter 2018 entry level skatepark scooter
Ampro skates was established in Ellenbrook in 2015 pro skate and scooter outlet.
Our dream was to combine our 40+ years of skating and technical experience and create a one-stop shop which caters to both the amateur & professional skater.
Carrying large  stocks of kick scooters suitable from toddler age, right through to the pro rider.  Brands of complete scooters and parts we stock are Envy, Flavor, Madd Gear, Crisp, Grit, Ethic, Samurai, Protec, Globber, Fox, Venice & District. also stock a comprehensive stock of spare and replacement parts, headsets, hand grips, bearings, wheels, bars, decks, helmets & bolts.
Being involved in the WA Roller Derby community, and pro scooter riders, Ampro Skates stock the appropriate quad skates and protective gear.  We carry Crazy Skates, Bont, 187, Triple 8 & offer a wide variety in stoppers, plates, spare parts, wheels, bearings, protective gear and apparel with lots of skates and inline blades suitable for children, including those which can grow with your child's feet. massive range of coloured laces, socks and novelties.
Just recently improved the range of skateboard stocks, including novelty light up penny boards, longboards & double kick.  Brands include Gopher, Trinity, Madd Gear, Eternal & NaNa.  We also offer spare parts, blank boards, trucks.
Take advantage of our kids protection pack, with any set of skates, blades, scooter or skateboard, we offer a safety pack valued at over $100 which includes helmet, knee pads, elbow pads and wrist guards, all for $49.00.
With extensive technical expertise, we can undertake both major and minor repairs from bearing, headset and bolt replacement, precision grip tape application, cleaning, respraying, cut downs, redrills.
Staff , pride ourselves on our ability for custom builds.  If you've a dream, we can build it for you.  Come chat to our techs today  and get your dream under your feet today.
Envy one kit scooter